Say farewell to winter and hello to warmer days as the new season begins to bloom in Page Valley. Spring's lush greenery and colorful signs of the season mark an ideal time to step outside for a fresh-air adventure.
See dogwoods, Eastern redbuds, daffodils, and hyacinths emerge as spring's arrival makes way for warmer — and longer — days. Watch day break as the sun rises over the Blue Ridge and Massanutten mountains. Marvel at the soft hues of dusk after sunset against a backdrop of panoramic Valley views during an overnight getaway, weekend retreat, or weeklong spring break.
Soak up the splendor of the season with an afternoon stroll in a town park. Enjoy spring dishes and fresh eats on the go or al fresco at an array of restaurants and eateries. Or explore the season in Shenandoah National Park and along Skyline Drive.
Fresh-air fun awaits you this spring — and in any season — in Page Valley
Swing into Spring in Your Valley Home-Away-From-Home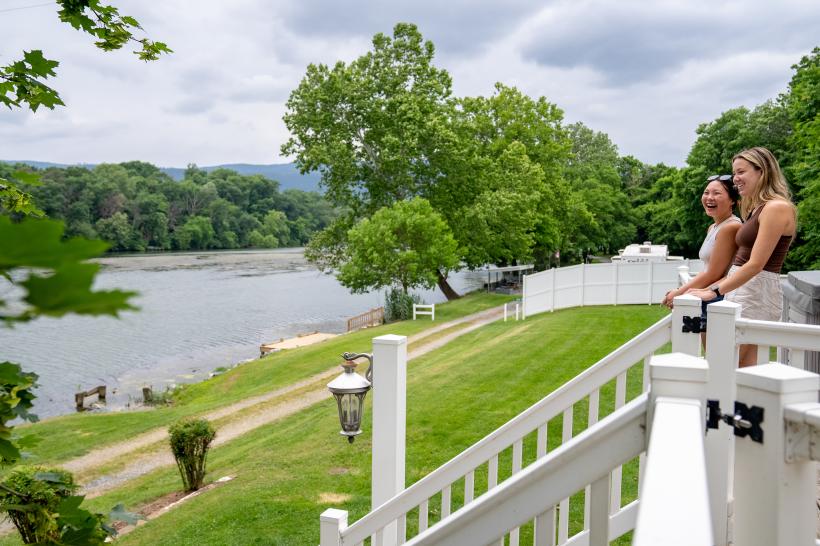 Escape to mountain hideaways, river retreats, or scenic estates in Page Valley. With hundreds of cabins to choose from, our selection runs the gamut — cozy and rustic, modern and unique, and large and lavish. Book your Valley home away from home and disconnect to reconnect with those who matter most to you.
Gather around a backyard fire pit for s'mores and laughter with little ones; cheers beneath starry skies from a hot tub with your special someone; or gather around a kitchen table with friends and family for a home-cooked meal made right in your cabin with farm-fresh Shenandoah Valley flavors from indoor farmers markets at Willow Grove Farm Market or Massanutten Country Corner.
With wide open spaces to explore right on the other side of your door and sweeping front-porch views to savor, our cabins offer endless possibilities to relax, reconnect, and unwind.
Savor Small-Town Charm and Signs of the Season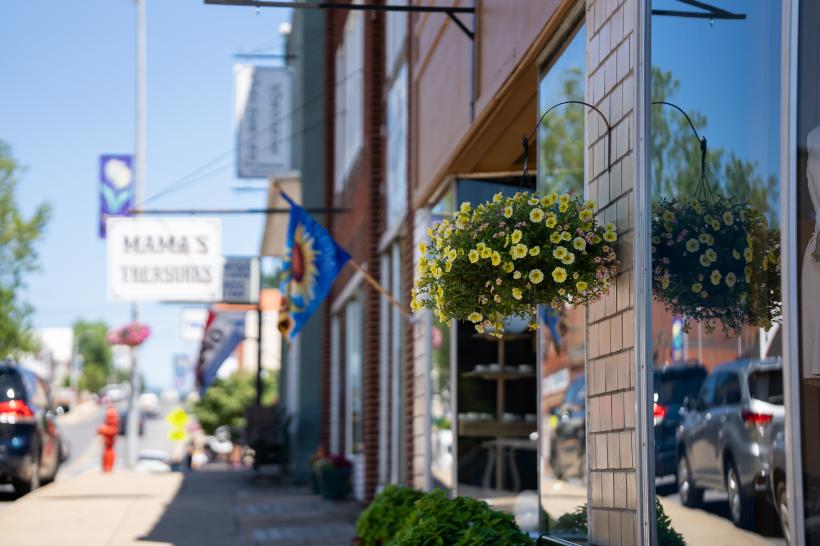 Signs of the season present a panoramic show each spring in Page Valley at town parks in Luray, Stanley, and Shenandoah. Take a stroll around Lake Arrowhead and watch with wonder as the greenery is reflected in the water in the evenings. Gaze out at the mountains that serve as a backdrop to the 134-acre park as you explore wooded hiking trails, picnic shelters, a white-sand beach, and playground equipment.
Enjoy a leisurely stroll, brisk walk, or bike ride along the Luray-Hawksbill Greenway. Explore the 3.3-mile walking trail that runs through the heart of Downtown Luray and stop for photo ops at dozens of murals and other artworks. Spot the ducks that call the Hawksbill Creek home and pause for a creekside picnic. Take in sights of the Blue Ridge Mountains and Shenandoah National Park from the Valley below at Stanley's Ed Good Memorial Park, or continue from Stanley to the Town of Shenandoah, where parks offer more southern views of the Valley and surrounding mountain ranges. Explore spring's splendor along the water at Shenandoah's River Park and Landing or along hiking trails and a pond at Big Gem Park.
Dine indoors, outdoors, or on the go at an array of restaurants and eateries in Page Valley. The Shenandoah Valley offers a range of flavors and dining price points. Raise your glasses and cheers to warmer weather with local spirits. Enjoy a sunny Saturday afternoon at outdoor picnic tables with farm-to-keg craft beer at the Hawksbill Brewing Co. Grab a bottle of Virginia wine from The Valley Cork to enjoy on site with a charcuterie selection or back at your cabin. Sip on Shenandoah Valley wines at Wisteria Farm and Vineyard and take in the surroundings of the farm and vineyard from one of dozens of outdoor seating options scattered throughout the property. Or savor carefully aged bourbon whiskey, small-batch corn whiskey, and various country wines at the River Hill Distillery.
Explore the Season in Shenandoah National Park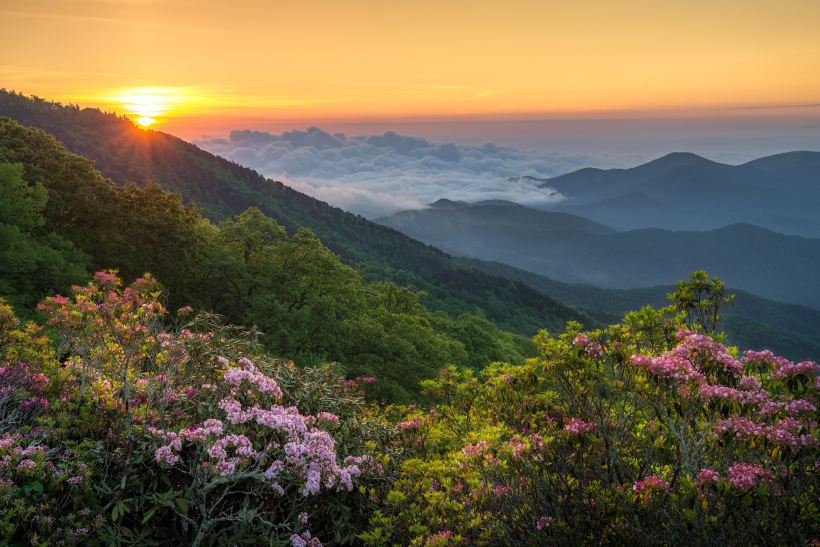 As leaves return to branches, wildlife emerges from winter and wildflowers put on a vibrant show, spring is a magical time to visit Shenandoah National Park. With more than 862 species of wildflowers found within the park's boundaries, there's lots of spring scenery to see — and to capture with your camera. Take a stroll through nature or a drive along the 105-mile National Scenic Byway Skyline Drive to see bloodroot, cutler toothwort, and trout lilies in bloom throughout April. Or plan your trip based on the season's peak blooms by checking out the park's wildflower calendar.
Spring also marks a prime time to go birdwatching and serves as a memorable way to enjoy warmer weather with the whole family. With more than 190 species of resident and transient birds within Shenandoah National Park, you never know what you'll spy — with just your eyes or through a pair of binoculars. Spot your feathered friends by watching for signs of sudden movement or keeping your ears out for birds singing from the treetops. Or stroll along one of the park's recommended hikes for birdwatchers. All of the recommended hikes are designated birding and wildlife viewing sites on the Virginia Bird and Wildlife Trail — which means they are ideal to spot birds, as well as other wildlife, while you're out on the trail.
Head out for a spring hike along more than 500 miles of trails in the national park, including 101 miles of the Appalachian Trail. Whether it's a leisurely walk through the woods, an exploration along a lesser-known hike, or an extended backcountry camping trip, there's fresh-air fun for everyone in Shenandoah National Park this spring. And endless possibilities to explore spring scenes and outings in Page Valley.