Grab your binoculars, your boots, and your camera phone and gather your favorite people to head out on the open trails year-round in Page Valley.
Nestled between the Blue Ride and Massanutten mountains with the South Fork of the Shenandoah River flowing through more than 300 square miles of pristine landscape, Page Valley is a paradise for hikers of all skill levels in every season.
Whether you prefer cool fall mornings, colorful spring afternoons, summer sunsets, or winter adventures, we have seasonal recommendations to help you hike like a local.
Winter
Linger on snow-capped mountains or take a quick pic and dash back to the warmth of your car. Either way, you'll be rewarded with breathtaking views and the peace and stillness of the winter season.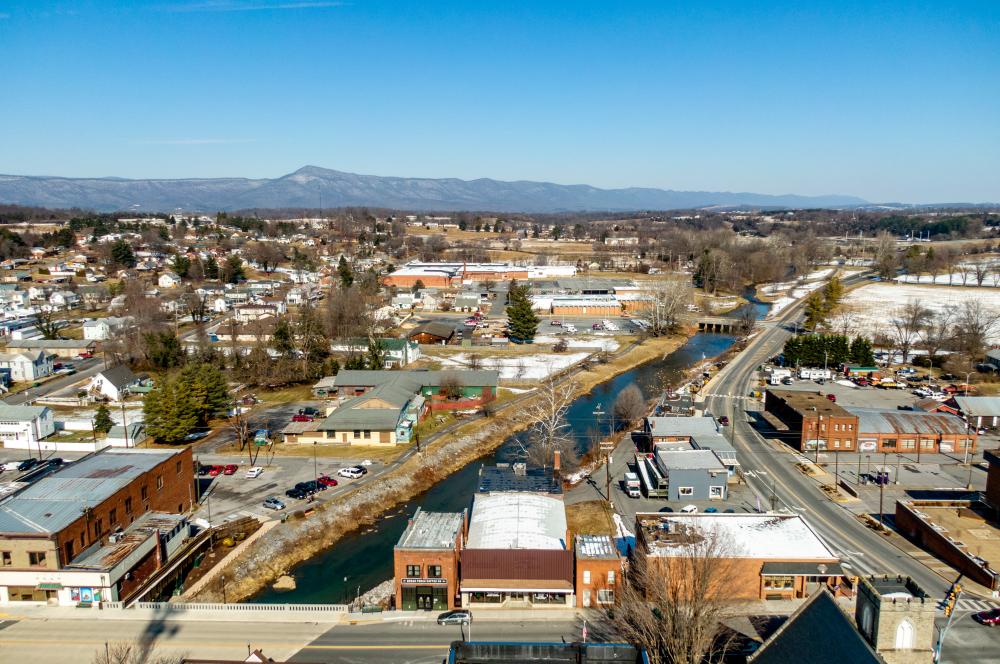 Pictured: Luray-Hawksbill Greenway, Downtown Luray
Massanutten Mountain Trail to Kennedy Peak
This hike along the ridge of the Massanutten Mountains is rated moderate, and features trails that are wide and well marked, making it attractive for hikers with some experience to tackle even when it's snowing. Those who brave the flurries — or even just enjoy the crisp, cool air — find a peaceful hike with spectacular views, culminating at Kennedy Peak. Once you reach the lookout tower, you'll be treated to panoramic views of the Shenandoah Valley below, made all the better if it's sparkling with a fresh layer of powder.
Storybook Trail 
If you're more of a quick-pic-and-back-to-the-car type, the Massanutten Storybook Trail is for you. This half-mile out-and-back trail is rated easy and is paved and ADA accessible. Your short walk will open up to a spectacular view of the Blue Ridge Mountains and Shenandoah Valley for breathtaking scenery, no hiking boots required. If you're not too cold to linger, the trail also features informative signs along the way about how the surrounding mountain ranges were formed.
Mural Trail and Hawksbill Greenway
Get a little antsy when there's not a ready supply of hot chocolate in sight? Then we recommend the mural trail and Luray-Hawksbill Greenway in Downtown Luray. The paved mural walking trail features more than 30 works of large-format art covering historic buildings, walls, overpasses, and other structures. In several sections, the trail overlaps with the Hawksbill Greenway, which runs along the Hawksbill Creek and provides its own intriguing scenery: a variety of birds. The Greenway is part of the Virginia Bird and Wildlife Trail, and is a paradise for birders.  Best yet, it cuts right through Downtown Luray, so you can take an easy detour to one of our local cafes (or local wine bar, brewery, or distillery, if that's more your warm-up style).
Spring
As Page Valley springs back to life you won't want to miss the blooming wildflowers along recently-thawed streams and returning greenery.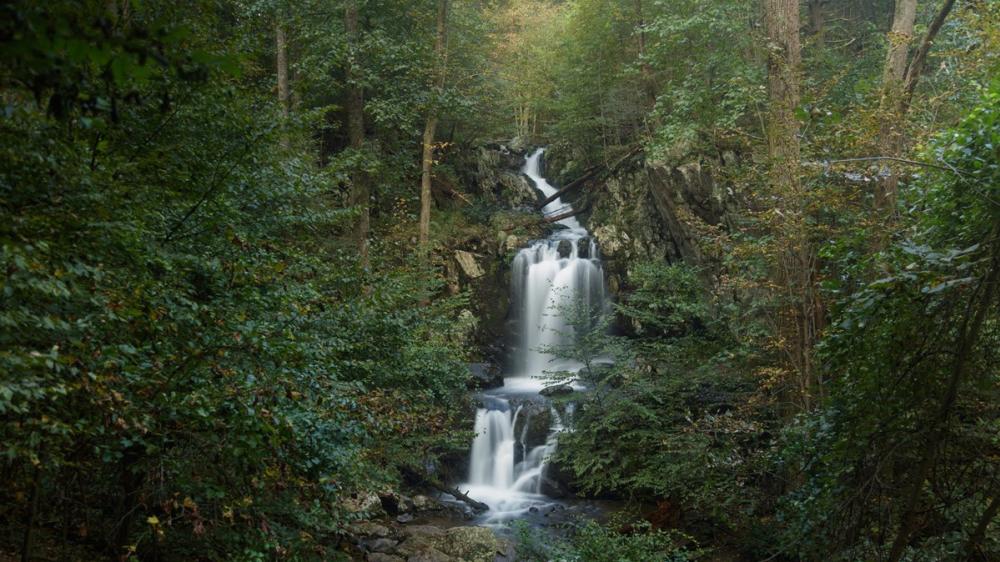 Pictured: Doyles River Falls / NPS
White Oak Canyon Trail
You can begin this 9.5 mile out-and-back trail at either the top or bottom of the mountain, but pros recommend starting at the bottom so that your hike back to your car is downhill. Along the way, you'll encounter multiple waterfalls varying in height from 35 to 86 feet and be surrounded by wildflowers along the canyon's stream. There are ample spots to stop for a rest, a photo op, or a snack.
Doyles River Falls
Looking for something a bit shorter and roundtrip? The Doyles River Falls trail features two waterfalls, each unique and beautiful, alongside plenty of wildflowers and wildlife. The trail crosses the creek at some points for a little extra challenge and a nice cooldown. Don't let the relatively short 3.3 miles fool you, the steep return is a great workout.
Dark Hollow Falls Trail
You may be picking up on a theme here: where there are waterfalls, there are also wildflowers and beautiful springtime adventures, and Page Valley is chock full of both. Dark Hollow is a relatively short 1.4 mile out-and-back trail suitable for most ages that culminates in beautiful falls surrounded by wildflowers in the spring. Pros say to be prepared for muddy trails and to arrive early to avoid crowds. On your way back, pop by the Harry F. Byrd, Sr. Visitor Center, located across from Big Meadows in the center of Shenandoah National Park.
Summer
Summer boasts reliably good weather in Page Valley, but like much of the Mid-Atlantic, it also brings high temperatures and humidity. If you're looking for hikes with an opportunity to cool off, you're in luck.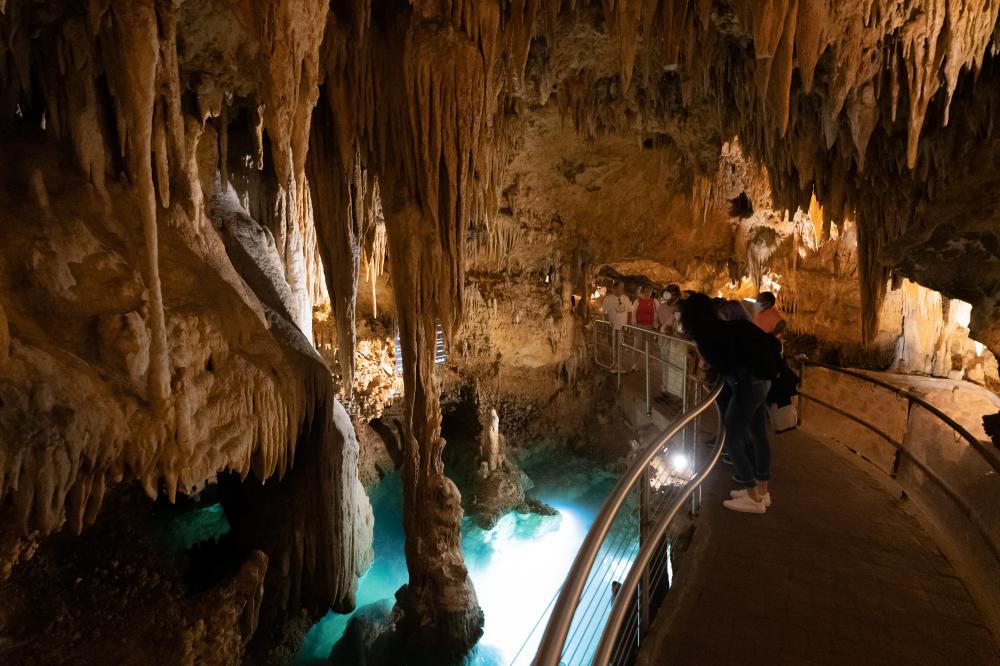 Pictured: Luray Caverns
South River Falls Trail
Located within Shenandoah National Park off mile marker 63 of Skyline Drive, the South River Falls Trail is beautifully shaded and leads to an 83-foot waterfall. You'll cross the Shenandoah River twice along the way, giving you an opportunity to cool off, and look down on the falls from a stone overlook 1.3 miles into your hike. But the real prize lies just beyond, accessible if you continue your journey down the fire road to the base of the falls. There you can splash, rest, and snack.
Rose River Falls Trail
The Rose River Falls Trail is considered one of the most scenic waterfall hikes in the entirety of Shenandoah National Park. The trail makes a 4-mile loop, and more than half of it follows falls and cascades. Because the trail parallels the Rose River, you'll have near-constant water views and access to jump in and cool off.
Luray Caverns
Cathedral-sized rooms boast ceilings 10 stories high with towering stone formations around every corner. These easy-to-traverse caverns are naturally cooling and provide an eye-catching experience for all ages. Enjoy other cooling activities while you're on the caverns' grounds, like swinging through the air on a ropes course and climbing to new heights.
Lake Arrowhead
Sport your bathing suit on this easy 1-mile hike to circumnavigate Lake Arrowhead. Jump in anytime you start to sweat, or wait for the beach about halfway through your hike. This quiet path is a local hidden gem, and it's a great place if more popular parks start to feel a bit crowded for you. Take in the beautiful mountains rising above the lake. Stick around for sunset and a little stargazing.
Fall
Fall is all about the foliage, so to close out the seasons and our list, we're taking you to the highest points where you can look out over the leaves changing all across the Shenandoah Valley.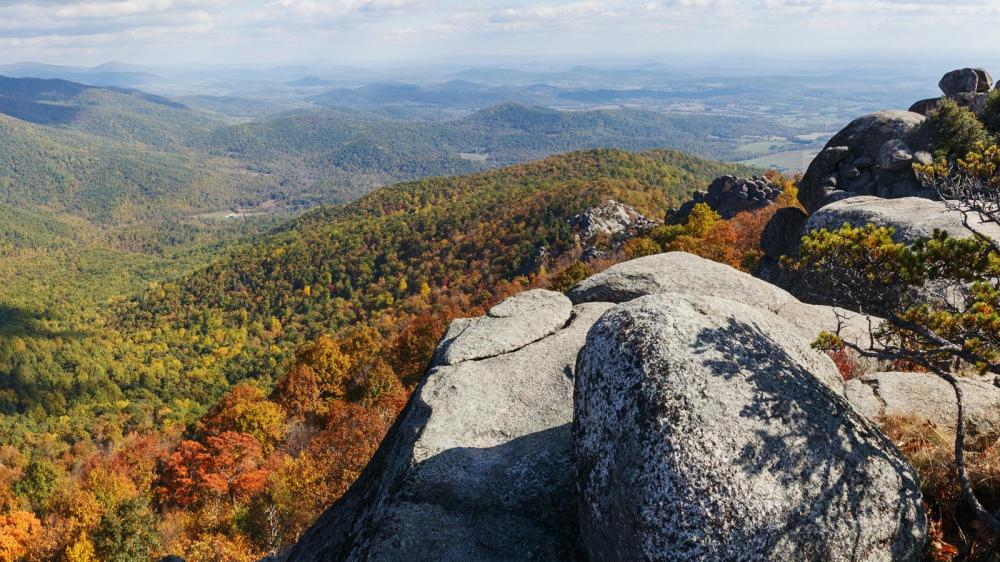 Pictured: Old Rag / NPS
Hawksbill Summit
The summit of Hawksbill Mountain is the highest point in Shenandoah National Park, standing at 4,050 feet and offering 270-degree views of the surrounding Shenandoah Valley. You can access the summit by hiking any one of three trails with varying degrees of difficulty. Once at the top, you'll marvel at the multicolored leaves as they change from your panoramic view of the Valley and surrounding peaks. Sunset pics are a must.
Stony Man Mountain Hike
Start your hike on the famous Appalachian Trail and continue this easy hike to the summit of Stony Man Mountain, where you'll be greeted with expansive views of the Shenandoah Valley and surrounding mountains. Watch the leaves turn before your eyes, pack a picnic, or take in the sunset. If you're looking for a little more adventure, extend your hike to rock climb at the Little Stony Man Cliffs.
Old Rag Mountain Trail
Like a little scramble? Rock scramble, that is. Then Old Rag Mountain is for you. Boulder and scramble your way along the 9-mile moderately difficult trail. Pack a lunch and plenty of water and stop at one of the many scenic summits to rest and refuel against a backdrop of breathtaking views. Then reach the summit and enjoy an unparalleled view of the Shenandoah Valley. Who doesn't love beautiful fall foliage with a side of accomplishment?
Mary's Rock Summit
Mary's Rock is the eighth-highest peak in Shenandoah National Park and is accessible by two trails of varying difficulty, depending on your mood. For an easier hike, begin at the Meadow Spring Parking Area. If you're in the mood for something steeper and longer, start at the Panorama Visitor Center and follow the white blazes of the Appalachian Trail. No matter which you choose, you'll be treated to a spectacular view of the park and surrounding area with all of its changing leaves when you reach the summit. For a little fun afterwards, Google how the mountain got its name.
Explore More
Get Outdoors in Page Valley.